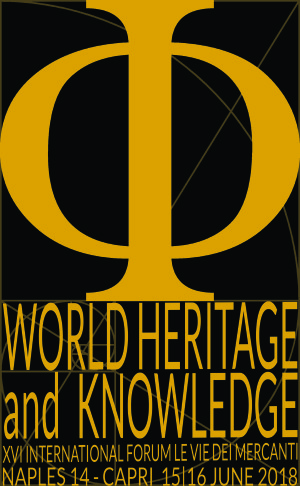 Dear Authors,
The most interesting 30 papers selected by the Scientific Committee, will be published in a special double number of 'Dwelling on Earth', A Class international magazine.
I am glad to inform you that on 5 February 2018 we received 262 abstracts involving more than 500 Researcher and distinguished Professor. Some abstracts come from Authors of Nations who sent for the firts time their abstact as the United Arab Emirates, Montserrat (United Kingdom), Serbia and Switzerland. Other abstracts come from the following Countries: Albania, Australia, Belgium, Brazil, Bulgaria, Canada. California, China, Cuba, Egypt, France, Germany, Japan, Jordan, Indonesia, India, Italy, Netherlands, Poland, Portugal, Russia, Saudi Arabia, Spain, Turkey, United Nations of America.
Best Regards.
Prof. Carmine Gambardella, General Chair
UNESCO Chair on Landscape, Cultural Heritage and Territorial Governance
The Scientific and Organizing Committee
_________________________________________________
Gentili Autori,
I 30 paper più interessanti selezionati dal Comitato Scientifico, saranno pubblicati in un numero speciale doppio di 'Abitare la Terra' rivista internazionale di Classe A.
Sono lieto di comunicarvi che alla data del 5 febbraio 2018 abbiamo ricevuto 262 abstracts inviati da oltre 500 Ricercatori e distinguished Professors. Alcuni abstract provengono da Autori di Nazioni che hanno inviato per la prima volta i contributi scientifici come gli Emirati Arabi, Montserrat (Regno Unito), Serbia e Svizzera. Gli altri abstract provengono dai seguenti paesi: Albania, Arabia Saudita, Australia, Belgio, Brasile, Bulgaria, California, Canada, Cina, Cipro, Cuba, Egitto, Francia, Germania, Giappone, Giordania, Indonesia, India, Italia, Olanda, Polonia, Portogallo, Russia, Spagna, Stati Uniti d'America e Turchia.
Cordiali saluti.
Prof. Carmine Gambardella, General Chair
UNESCO Chair on Landscape, Cultural Heritage and Territorial Governance
The Scientific and Organizing Committee