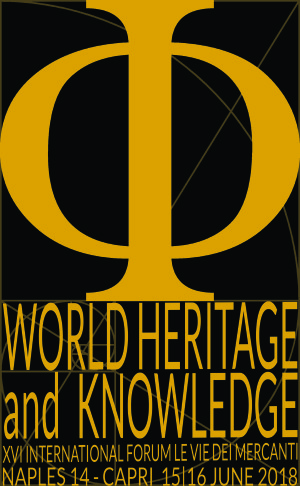 Dear Authors,
I remind you that the best 30 papers selected by the International Scientific Committee will be published in the A Class 'Dwelling on Earth' magazine:www.leviedeimercanti.it
DUE TO DUE THE NUMEROUS REQUESTS RECEIVED FROM ALL OVER THE WORLD IN ORDER TO POSTPONE THE PAPER SUBMISSION, WE COMMUNICATE THAT THE DEADLINE FOR THE PAPER SUBMISSION HAS BEEN EXTENDED TO 9 APRIL 2018.
Best Regards.
Carmine Gambardella, General Chair
UNESCO Chair on Landscape,
Cultural Heritage and Territorial Governance
The Scientific and Organizing Committees
---
Gentili Autori,
Vi ricordo che i migliori 30 papers selezionati dal Comitato scientifico internazionale saranno pubblicati nella rivista di Classe A 'Abitare la Terra': www.leviedeimercanti.it
VISTE LE NUMEROSE RICHIESTE PERVENUTE DA TUTTO IL MONDO PER IL DIFFERIMENTO DEI TERMINI DELLA PRESENTAZIONE DEL PAPER, SI COMUNICA CHE LA SCADENZA PER PROPORRE IL PAPER È STATA PROLUNGATA A LUNEDI 9 APRILE 2018.
Cordiali saluti.
Carmine Gambardella, General Chair
UNESCO Chair on Landscape,
Cultural Heritage and Territorial Governance
The Scientific and Organizing Committees