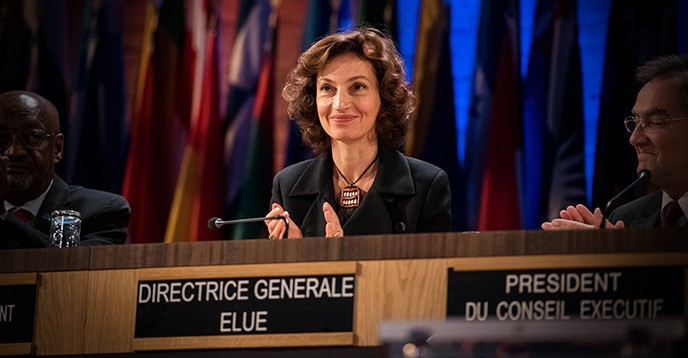 https://en.unesco.org/news/audrey-azoulay-appointed-director-general-unesco
Dear Director General Audrey Azoulay,
I wish to warmly congratulate with you for your appointment as UNESCO Director General in my position of Chair-holder of the UNESCO Chair on Landscape, Cultural Heritage and Territorial Governance at the Research Centre of Excellence for Cultural Heritage, Ecology and Economy in Italy, which is a Consortium of five Italian Universities: University of Campania 'Luigi Vanvitelli', University of Naples 'Federico II'; Pegaso University, University of Salerno, University of Sannio (www.benecon.it).
I really hope to meet you in person at the Second Coordination Meeting with UNESCO category 2 institutes and centres (C2Cs) and UNESCO Chairs and UNITWIN Networks related to Culture on 23-24 November 2017 at UNESCO Headquarters in Paris. I would be honored to invite you in Naples and Capri, whenever you are available, to visit my Research Centre and UNESCO Chair. Since 2003 I organize the International Forum of Studies 'Le Vie dei Mercanti' which focuses on World Heritage properties preservation and management. In 2018, its XVI edition is titled 'World Heritage and Resilience', under the patronage of the Forum UNESCO University and Heritage, the Italian National Commission for UNESCO, and the USA-Italy Fulbright Commission (www.leviedeimercanti.it).
Moreover, my UNESCO Chair is organizing a II Level Master Science, which focuses on UNESCO topics in cooperation with 20 Italian and international partners, which in the last years developed researches and operative projects in cooperation with BENECON Research Centre. Among them: Guardia di Finanza (Italian Financial Police);  EPU (European Polytechnical University) Bulgaria; the University of Malta; the Polytechnic University of Tirana (Albania); Rutgers, the State University of New Jersey, Center for Urban Policy Research (USA); the University of Miami (USA); and the Italian Universities of Trento, Perugia and Palermo.
Best congratulations and regards.
Carmine Gambardella
UNESCO Chair on Landscape,
Cultural Heritage and Territorial Governance